Register Your Warranty Here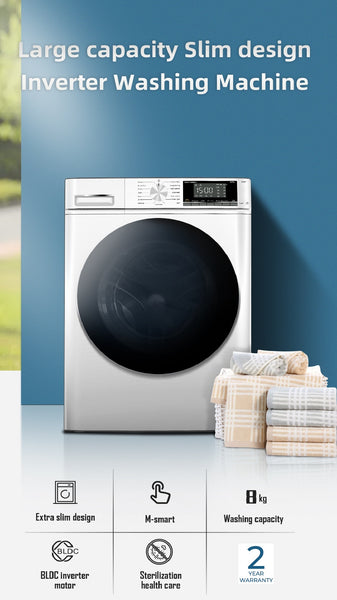 Introducing the energy-efficient washing machine, designed to not only save you money on your energy bills but also deliver exceptional washing performance. With a high energy efficiency rating of B, this washing machine is perfect for those families looking to reduce their carbon footprint and save on their energy costs.
But that's not all – this machine also boasts a large washing capacity of 8 kg, so you can easily wash all your clothes in one go. And with a door open angle of 140°, you'll have no trouble loading and unloading your laundry.
And when it comes to ironing, this washing machine makes it easy with its advanced Steam technology.
The motor type is an Inverter, which provides long-lasting powerful, and efficient performance, while the spin speed of 1400 rpm helps to reduce wrinkling and maximize water removal.
But that's not all – this machine also features an advanced control system and fuzzy logic technology, which work together to optimize the wash cycle and provide the best possible results. Plus, with a child lock and delay end feature, you can know that your little ones are safe and your laundry is finished when you need it to be.
Overall, this washing machine is perfect for anyone looking for energy efficiency, exceptional washing performance, and convenient features – all from this one appliance.
Inverter control system       
One Touch Start                                                    
Extra Slim  (530cm Drum)                                                         
Memory back up                                                                        
Fuzzy logic controls                                                                            
Child lock                                                                             
Delay end                                                                        
Product Information      
Capacity (kg) 8                                              
Color White                                                                   
Energy efficiency B                                                      
Spec.
Inverter Motor
1400rpm Spin Speed 
LED display                        
140° Door open angle                                                               
Pumped Drain action                                   
Instant Door lock       
Easy  Ironing function     
330 Inlet diameter/ mm                                                      
480 Door diameter/ mm                                                     
530 Drum diameter / mm                                                   
53 Drum volume / L                                                              
80 Max water temp /℃                                            
1m Length of inlet pipe/m                                          
1.5m Length of the drain pipe                      
Dimensions & weight
430mm Cabinet  depth                                              
600*520*847mm  Maximum product size                    
670*573*888mm   Packing dimension                       
60kg Net weight                                                          
65kg Gross weight                                                
Benefits of an Inverter Motor -     
There are several benefits of using a brushless inverter motor in a washing machine:
Energy efficiency: Inverter motors are more energy efficient than other types of motors, such as AC induction motors, due to their low copper losses and high power factor. This can result in reduced energy consumption and lower operating costs.

Increased lifespan: Inverter motors have a longer lifespan than other types of motors because they do not have any brushes, which are prone to wear and tear. This can result in reduced maintenance costs and longer periods of operation without interruption.

High power density: Inverter motors have a high power density, which means that they can deliver a high output power relative to their size. This makes them ideal for use in small and compact appliances, such as washing machines.

Good speed control: Inverter motors have good speed control characteristics, which means that they can be easily controlled to run at a specific speed. This can be useful for washing machines, as different wash cycles often require different speeds.

Low noise and vibration: Inverter motors have low noise and vibration levels, which can make for a more pleasant washing experience.
Overall, the use of an inverter motor in a washing machine can result in improved energy efficiency, increased lifespan, high power density, good speed control, and low noise and vibration.