P35106MDW PowerPoint 6kg Washing Machine
Powerpoint
Register Your Warranty Here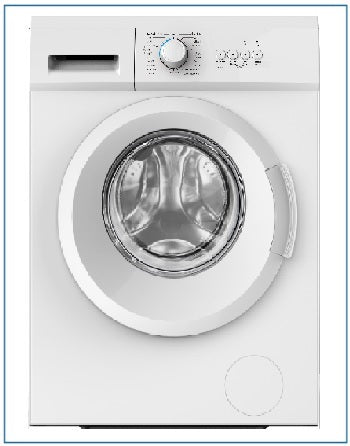 Model No: P35106SKW
EAN: 5391503416517
Look forward to effortless laundry time with this great new washing machine from PowerPoint.
Its 6kg drum capacity makes it the ideal choice for smaller households, and because it has a super-efficient E energy rating, it is really kind to the environment and lighter on your electricity bills.
There is a useful Quick wash program that can power through a small load of washing in just 15 minutes – perfect when you need lightly soiled clothes that need to be cleaned in a hurry. There are many more wash programs for all types of clothes.
There is a Child lock if there are small children in the house, it's designed to prevent them from adjusting the program or switching the machine off when in use.
There is also a handy time delay option that lets you set the machine to activate late at night when the electricity is cheaper to run. This is great on your pocket and the environment.
E Energy Rating

Pause Function
Pre Wash Function for extra dirty clothes.
Delay button from 3 hours to 18 hours
Easy turned Programme Knob to select the required wash program.
Standard 60 °C and 40 °C are suitable to clean normally soiled cotton laundry and they are the most efficient programs in terms of combined energy and water consumptions for washing.
Child Lock function make all buttons unavailable except on /off

Programs:


Synthetic 40 degree
Delicate 20 degree
Cotton 20, 40, 60 &amp; 90 degree<br>
Mix 40, 60 degree
Drum  Clean
Rinse & Spin
Quick 15''
Eco 40-60deg
Cold Wash
The detergent drawer is made up of 3 compartments:

Pre-Wash
Main Wash
Softener
Helpful Links: