Register Your Warranty Here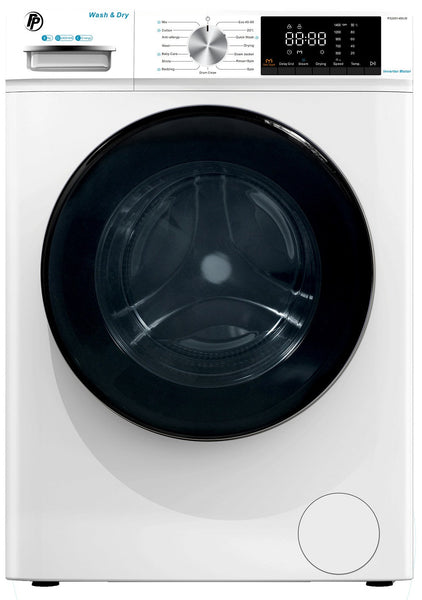 Product Overview
Breeze through your washing with the new washer dryer from PowerPoint. It has an 8kg wash and a 5kg dry capacity, which makes it perfect for large households. If you have sensitive skin, you'll love the Anti-Allergy setting. It uses higher temperatures and extra rinses to get rid of 99.9% of irritants like dust and pollen. The I-Refresh Function also uses micro vapour technology to reduce creases and refresh delicate fabrics, leaving your favourite sequin dress looking as good as new. The Direct Motion Motor is great too, as it's very quiet and durable, which is ideal for open-plan living.
Key Features
8 Kg Washing Load
5kg Drying Load
Energy class B
Easy-read LED Display
135° Swing Door open angle      
Massive 480mm door diameter
Inverter Motor BLDC
1400rpm spin speed
Memory back up
Fuzzy logic
Child lock
One touch
Programs
Mix       
For washing lightly to normally used mixed load of cotton and synthetic fabrics, white and coloured items together
Cotton 
For daily items of cotton, linen, and cotton blends, 
Anti-allergy        
For clothes that need to remove mites and allergens.
Wool    
For machine washable wool and wool blend clothes
Baby Care     
Shirts    
Bedding    
For large items such as blankets, curtains, and bedspreads
Eco  40-60
Most Energy efficiency program
20℃      
For small amounts of clothes that are easy to fade, the washer uses only cold water without utilizing the washer's heater in this program
Quick wash        
For small amounts or lightly soiled garments.
Drying  
Down Jacket     
For a down jacket which can be washed by machine
Rinse +Spin        
Combines a rinse and spin for loads requiring an additional rinse cycle. Also, use for loads that require rinsing only.
Spin      
This cycle uses a spin to shorten drying times for heavy fabrics or special-care items washed by hand
Drum clean        
Clean the drum by removing dirt and bacteria from the drum. Make sure the drum is empty
M-Smart
A special cycle that can be started simply by pressing the ONE-TOUCH button
Technical Specification
Power supply                 220~240V/50Hz
Rating power/W            1800
Max water temp ℃        85
Unit dimension               600*430*847mm
Product size                    600*520*847mm
Packing dimension,         678*573*880mm
Net weight (kg)               60
Gross weight (kg)            65
Useful Information
Model Number P328514MLW
Ean Code 5391503419037