Black Side By Side USA style Fridge Freezer with Water dispencer P9383WDKBL
Powerpoint
Register Your Warranty Here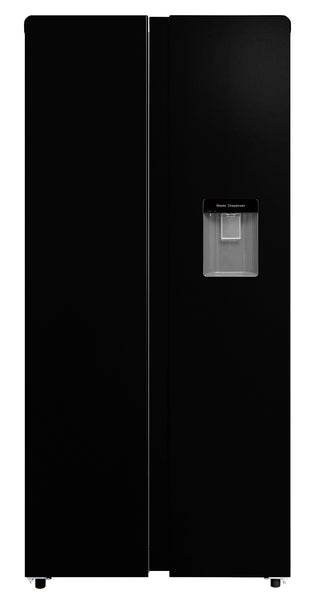 Product Overview

Add a splash of magic to your kitchen with this PowerPoint American fridge freezer. You have 230 litres of fridge space, with adjustable shelves. That means enough room for lots of shopping bags. And with the spacious 142-litre freezer, you can fit in all your favorite frozen food. Plenty of room for your whole weekly shop, with bonus space for tasty treats. And with 6 freezer storage areas, dairy compartments a salad crisper, and a bonus for your veg, you can organize your shopping in a way that suits you.
The total no-frost technology stops you from having to chip away at the ice to get to your goodies. But with the Fast Freeze feature, your food is cooled as soon as it's tucked away in the freezer.
Quench your thirst with a cool drink of water. The non-plumbed dispenser is perfect for when you're looking for a quick refreshment on a hot day.
Boasting an F energy rating, you can save money on your utility bills. So you can keep your food chilled while helping the climate do the same. And thanks to the open-door alert, you can close the fridge freezer before your food gets spoiled.
Product Dimensions(см)(wxdxh) 780*628*1735
Climate Class SN/N/ST/T
Energy Efficiency Class F
Energy Consumption(kwh/24h) 0.915
Energy Consumption (annual) 334
Total Gross Volume(L) 420
Total Storage Volume(L) 372
Freezer Storage Volume(L) 142
Refrigerator Storage Volume(L) 230
Freezing Capacity(kg/24h) 12
Noise 41
Packing Dimensions(cm)(wxdxh) 839*679*1822
Net Weight(kg) 69
Gross Weight(kg) 75
Rated Voltage 220-240V
Frequency 50HZ
Rated Power(W) 130
Rated Defrost Power(W) 220
Rated Current(A) 1.3
Helpful Links:

Model No: P9383WDKBL
EAN:  5391503417583