Register Your Warranty Here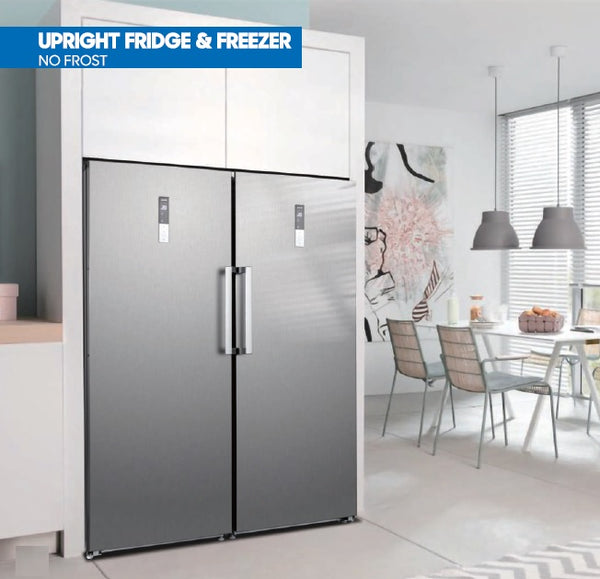 Product Overview
If you require a large-capacity Fridge look no further as this Powerpoint Hybrid fridge has all you in need. Its large and versatile refrigerator offers lots of features and functionality. Here's a breakdown of some of the key features and benefits:
380-litre extra-large usable capacity: This fridge offers plenty of space for storing all your food and beverages, including large items.
Hybrid fridge to freezer switchable system: This feature allows you to easily convert the fridge into a freezer or vice versa, giving you more flexibility in how you use the appliance. It has a fridge cooling range from +8 to +2 switchable to a freezer at -18.  
Inverter motor: An inverter motor is more energy-efficient and quieter than traditional motors, so you'll save money on your energy bills and enjoy a more peaceful kitchen environment.
Full frost-free cooling system: This means that you won't have to manually defrost the appliance, as it will do it automatically for you. This saves time and effort and helps ensure that the fridge/freezer is always running efficiently. It also ensures cool airflow throughout the fridge making sure the temperature is consistent from top to bottom.
Electronic control system with LED display: This feature allows you to easily monitor and adjust the temperature settings, as well as access other functions like fast cooling and freezing.
Fast cooling and freezing: If you need to freeze items, this feature will come in handy. It's great for when you're stocking up for a party or need to preserve food. 
Easy grab handle: The handle on the fridge is designed to be easy to grip and open, so you won't have to struggle to access your food and beverages.
Door alarm: This is a safety feature that will alert you if the door is left open for too long, which can help prevent food spoilage and energy waste.
Interior LED light: The LED light inside the fridge makes it easy to see what's inside, even in low light conditions.
Reversible door: The door on this fridge can be reversed, which means you can customize the appliance to fit your kitchen layout.
Joining kit for freezer: This feature allows you to connect the fridge to a separate matching freezer unit, which can expand your storage capacity even further.
Overall, this fridge offers a lot of benefits and features that make it a great choice for anyone who needs a large and versatile appliance that can handle all their food storage needs.
 Key Features
380lItre Extra Large Usable Capacity
71cm wide x 185 Tall Fridge configuration with Glass Shelves & Drawers
Hybrid fridge to freezer Switchable System
Inverter motor 
Full Frost-Free Cooling System
Electronic Control System with LED Display
Fast Cooling and Freezing
Easy grab Handle
Door Alarm
Interior LED Light
Reversible Door
Joining Kit for Freezer P1271185MFZIN
Useful Information
Model Number: P1271185MRIN
EAN Code: 5391503418061
PACKING DIMENSIONS(WHD)MM: 750 x 1920 x 756