Register Your Warranty Here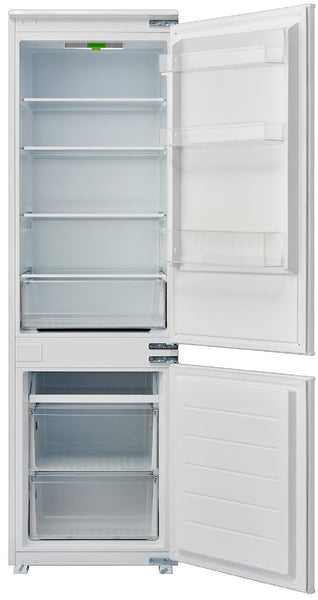 PRODUCT OVERVIEW
Your groceries will be in great hands with this Powerpoint built-in fridge freezer. There's enough space for lots of bags in the fridge and the 3-drawer freezer can take lots of burgers, pizza, or whatever you require to keep the household in food during the week so that you will have plenty of room for the weekly shop. It's also got a special drawer to keep your fruit and veg organized – no more strawberries getting accidentally squished by a butter dish. You're guaranteed a great fit no matter what your kitchen layout's like because you can change which way the doors on this model open. And to keep it working at its best, you'll just need to defrost it occasionally.

GENERAL FEATURES
Total Volume(L) 271
Product Overall Dimensions(mm)(WxDxH) 540*545*1785
Fresh food compartment Volume(L) 192
Freezer compartment Volume(L) 79
Climate Class SN/ST
Protection Against Electric Shock I
Rated Voltage/Frequency 220-240V/50HZ
Lamp Rated Power(W) 2
Rated Current(A) 0.8
"Energy Consumption(kWh/24h)
Annual energy consumption AE [kWh/a]" "0.775 283"
Energy consumption E16 (kWh/24h) 0.465
Energy consumption E32 (kWh/24h) 1.085
Energy Efficiency Class F
temperature rise value(h) 8.6
Net Weight(kg) 55
Gross Weight(kg) 61
Noise(dB(A)) and Noise Level 39dB/C
Space required in use (WxDxH) 560x560x2100
Overall Space required in use (mm)(WxDxH) 560x1070x2100
Packing Dimensions(mm)(WxDxH) 580x585x1880
Useful links.
User Manual 
Model Number: P87030MRBI
EAN: 5391503415817