P152CZTCIN Powerpoint 2 Zone Induction Ceramic Hob with Touch Control.
Powerpoint
Register Your Warranty Here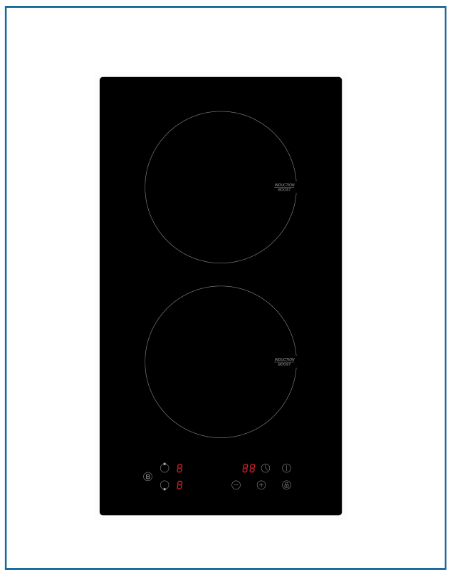 Model No: P152CZTCIN
EAN: 5391503415718
If you're looking for a smaller hob to suit your small kitchen, one to sit alongside your full size hob or one to install into an island, then our Powerpoint domino hob couldn't be any more suited. Theres no fuss when it comes to installation, all you need to do is cut out your niche and plug it in or heard wire it in.
This ceramic hob features two cooking zones which makes it perfect for adding extra cooking space to your setup and can also be installed alongside hobs with different fuel types such as gas. The touch controls make it easy to switch between the nine power levels while a handy timer alerts you when activated. As this hob is ceramic, you're going to notice that the surface gets incredibly hot and may take a while to cool after use. But there's less chance you'll burn yourself when it comes to wiping away splashes thanks to the residual heat indicator. It will remain lit until the hob is safe to touch.
If you leave the hob turned on for a long period of time, it'll even turn itself off, so you don't have to worry if you realise you didn't shut it down before you went out. A child lock makes sure it cant be activated without an adult present.
2 Zone Induction Hob with Boost Function
Vitro Ceramic Glass
Total power(W) 3500W
Front left zone Power/Size 2000w Boost to 2300w/180mm
Rear left zone Power/Size 1500w Boost to 1800w/180mm
9 Power steeings
99 Minute Timer
Auto Safety Switch Off
Child lock
Residual heat indicator
Pan Sensor
Boost Functions
Product Size(mm) (W*D*H) 288*520*60
Built-in Size(mm) (W*D*H) 268*500
Carton Size(mm) (W*D*H) 380*575*115
Product Net weight(kg) 4.2
Gross weight(kg) 5.6
Power Cable 2-core power cable, length 1 m ,without plug
Voltage/frequency 220-240V~,50/60Hz
Helpful Links:
User Manual