Register Your Warranty Here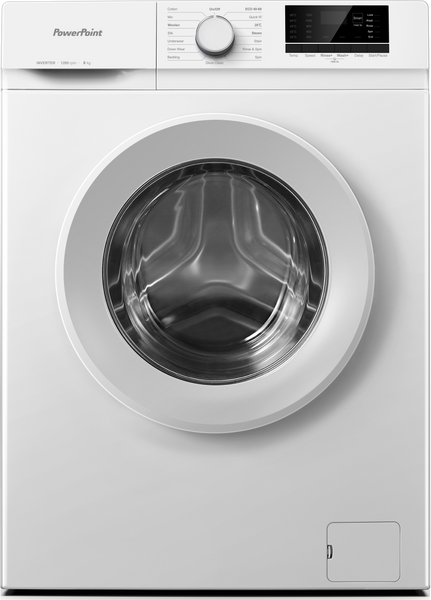 Product Description        
8KG 1200 Rpm Inverter Washing machine
Model Number P35128KW
EAN Code  5391503417774
Features
8Kg Capacity
Inverter BLDC Motor Type
1200 Maximum Spin Speed (rpm)
B Energy efficiency rating
Intelligent Program
Add Garment
15-Minute Quick Wash   
170 ° Door open angle
Instant Door lock
Programs    
16 Programs                      
Smart
Cotton
Mix
Wooden
Silk
Underwear
Down Wear
Bedding
Drum Clean
Spin
Rinse & Spin
Stain
Steam
20℃
Quick 15'
ECO 40-60
Features      
Intelligent Program                     
Intelligently detects the clothing difference and selects the washing time accordingly so as to save the washing time electricity and water.
Add Garment            
You can execute this operation to add garments during the washing procedure. The machine will suspend the wash procedure and unlock the front door automatically     
Delay start.           
With the Delayed Start function, the start-up of the program may be delayed up to 24 hours. Delayed start time can be increased by increments of 1 hour.      
15-Minute Quick Wash              
Shorten the washing time for lighter clothes and lightly soiled clothes for energy saving.
Child Lock               
It can prevent children from pressing buttons or interrupting operations.
                Inverter BLDC Motor      
Low power, low noise, great speed performance, and longer lasting.
Technical Spec
Voltage/Frequency* 220V-240V/50Hz
CE
Rated power/W 1950w
Single Water Inlet
90°C Max water temp
2m Length inlet pipe
5m Length of drain pipe (from ground level)
300mm porthole
480mm Inner cylinder diameter
320mm Inner cylinder depth
430mm door dimensions
            Dimensions & Weights
Dimension (w*h*d in mm)* 600*540*840
Packing dimension/ mm 650*600*870
Net weight/kg                 62kg
Gross weight /kg 63kg
Benefits of an Inverter Motor -

There are several benefits of using a brushless inverter motor in a washing machine:

Energy efficiency: Inverter motors are more energy efficient than other types of motors, such as AC induction motors, due to their low copper losses and high power factor. This can result in reduced energy consumption and lower operating costs.

Increased lifespan: Inverter motors have a longer lifespan than other types of motors because they do not have any brushes, which are prone to wear and tear. This can result in reduced maintenance costs and longer periods of operation without interruption.

High power density: Inverter motors have a high power density, which means that they can deliver a high output power relative to their size. This makes them ideal for use in small and compact appliances, such as washing machines.

Good speed control: Inverter motors have good speed control characteristics, which means that they can be easily controlled to run at a specific speed. This can be useful for washing machines, as different wash cycles often require different speeds.

Low noise and vibration: Inverter motors have low noise and vibration levels, which can make for a more pleasant washing experience.

Overall, the use of an inverter motor in a washing machine can result in improved energy efficiency, increased lifespan, high power density, good speed control, and low noise and vibration.