P06G2SNGW PowerPoint 60cm Twin Cavity Gas Cooker
Powerpoint
Register Your Warranty Here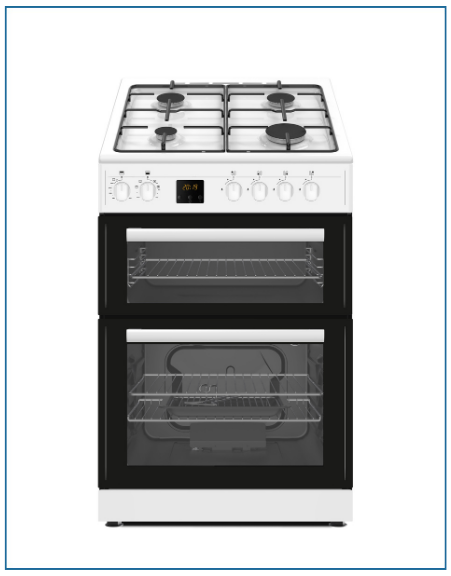 Model No: P06G2SNGW
EAN: 5391503416036
MODEL TYPE

Twin Cavity

Fuel Gas  

COLOUR

White

SIZE

60 x 60
 HOB FEATURES
TYPE

Gas

FLAME FAILURE SAFETY

FRONT RIGHT ZONE

2,90 kW

FRONT LEFT ZONE

0,95 kW

BACK RIGHT ZONE

1,70 kW

BACK LEFT ZONE

1,70 kW

PAN SUPPORTS

Black Enamel

BUTTON IGNITION

TIMER

3 button minute minder
UPPER CAVITY
Gas Grill

GRILL POWER (W)

2.0kw

FLAME FAILURE SAFETY

LAMPS

 x 1

THERMOSTAT

ELECTRONIC IGNITION

 

NET CAPACITY (LT)

30L
LOWER CAVITY (MAIN OVEN)
FUNCTIONS

CATHEDRAL OVEN BURNER 

GRILL POWER (KW)

2,0 kW

FLAME FAILURE SAFETY

BASE ELEMENT/BURNER

LAMP(S)

 x 1

THERMOSTAT

ELECTRONIC IGNITION

CAPACITY (LT)

56L

ENERGY RATING

A 

SIDE OPENING 

DOOR
ACCESSORIES INCLUDED
BAKING TRAY, GRILL INSERT & HANDLE

 

3 X WIRE SHELVES
GAS TYPES
**This product was set for Natural Gas during production. Included is a conversion kit to adjust the cooker to LPG Gas also known as Bottled gas.
This adjustment can only be done legally by a registered gas installer. 
***This cooker must be installed by a registerd gas installer. Failing to do this will void your warranty and home insurance in the event of a fault or incident relating to the cooker or gas in your home.
Details on registered installers in Ireland can be found by visiting the Registered Gas Installers Ireland Click Here
Details on registered installers in Northern Ireland can be found by visiting the Registered Gas Installers Ireland Click Here