Register Your Warranty Here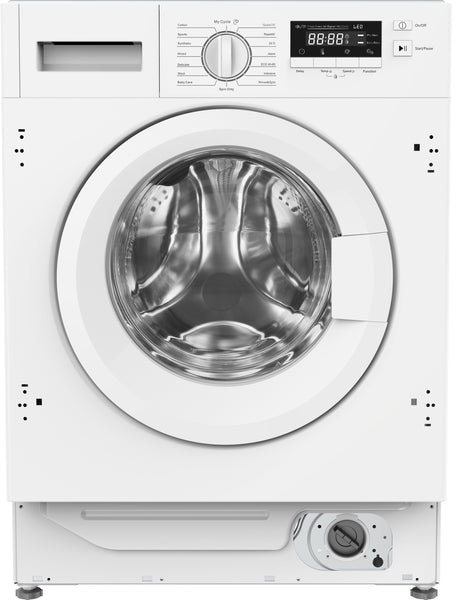 Product Overview
Introducing the ultimate washing solution for families from Powerpoint - the hidden built-in 7kg family washing machine. Seamlessly integrating with any kitchen design, this washing machine is designed to make your life easier. With appliances at your fingertips, you can now wash your clothes conveniently and efficiently, without compromising on style.
Featuring a large family drum with a capacity of 7kg, this washing machine is perfect for washing large loads, saving you time and energy. The super efficient and reliable 1400rpm inverter motor ensures a thorough and efficient wash every time, while also reducing noise and saving energy. With the LED display, you can monitor the washing cycle and adjust settings as needed, making it easy and convenient to use.
Safety is paramount when it comes to washing machines, which is why this product features a child lock, ensuring added safety and security during the wash cycle. 
In addition, this washing machine is B-rated energy efficient, saving you money on electricity bills over time. The inverter motor ensures that the machine operates at optimal efficiency, saving energy and reducing noise during the washing cycle.
Overall, the built-in 7kg family washing machine is the perfect washing solution for families who want convenience, efficiency, and style. Choose this product for a seamless and efficient washing experience right in the heart of your kitchen.
Key Features
7kg drum capacity

 

- great for medium-sized households
RecycledTub™ – Sustainably made using plastic bottles
Anti-Allergy programme – Great for sensitive skin
Fast+

 

– The same great results but quicker
Dimensions (cm)

 

- H82 x W60 x D56
Features
Inverter BLDC Motor
Washing Capacity              7 Kg
Spinning Capacity              7 Kg
Max. Spin Speed                1400 RPM
LED Display
White Display Colour                                     
Instant Door Lock
Child Lock (Combined)  
Programmes and Performance                 
16 Programs                      
Intensive            
Cotton
ECO 40-60           
20°         
Quick 15′
Rapid 45'
Rinse & Spin
Baby Care
Sports
Synthetic            
Mixed  
Delicate               
Wool    
Jeans    
Spin Only            
My cycle             
Button Function              
Function             
Delay     (24 hours)
Speed   (0-400-600-800-1000-1200-1400)
Temp    (Cold-20℃-30℃-40℃-60℃-90℃)
Prewashing       
Mute-button (Press 3 seconds)
Extra rinse          
Memory (Press 3 seconds)         
Energy Rating                   
Energy Efficiency Class(New) B
Spin-drying Efficiency Class B
Moisture Ratio 53.9%
Washing efficiency index 1.031
Energy efficiency index 60
Power consumption left-on mode W 1.0
Power consumption off-mode  W 0.5
Weighted energy consumption per 100 cycles (100*Ew) kW·h/100 cycles 52
Energy consumption in kWh per cycle kW·h/cycle 0.517
Energy consumption at rated capacity kW·h/cycle 0.785
Energy consumption at half-rated capacity kW·h/cycle 0.447
Energy consumption at quarter-rated capacity kW·h/cycle 0.210
Weighted water consumption (Ww) L/cycle  45
Water consumption at rated capacity L/cycle  58.0
Water consumption at half-rated capacity L/cycle  43.0
Water consumption at quarter-rated capacity L/cycle  30.0
Program duration at rated capacity min 208
Program duration at half-rated capacity min 162
Program duration at quarter-rated capacity min 162
Spinning noise level dB 76
Spinning noise class B            
Specifications                  
Volume Of Inner Tub L 52.7 L
Diameter Of Inner Tub  mm 510 mm
Door Diameter  mm 310 mm
Door Outer Frame Diameter (outer)  mm 445 mm
Net Dimensions  (W×D×H) mm 595*540*825mm
Gross Dimensions  (W×D×H) mm 680*605*875mm
Net  Weight 63kg
Gross Weight 67kg
Technical Spec
Rated  Power Supply V 220-240 V
Rated  Frequency Hz 50 Hz
Rated Power W 1950 W
Rated Current A 10 A
Standard Water Pressure Mpa 0.05~1 Mpa
Power cord length 1.5 M
Water Inlet Hose Length 1.0 M
Useful Links
Model Number:  P36147MDINT
EAN Code: 5391503418214
User Manual & Installation Guide