Register Your Warranty Here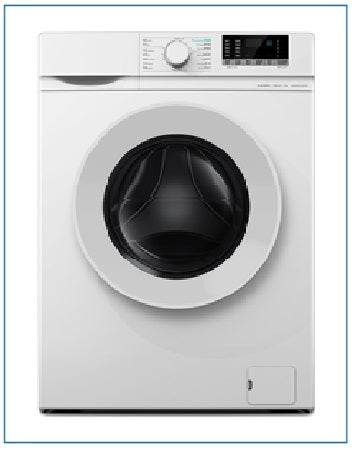 Product Description
This fantastic washing machine from Powerpoint is packed with great features and the massive 10kg drum is ideally suited for all family sizes. The large capacity helps reduce the time you need to wash and even when full it is really economical to run. This is due to its specially designed low-power, low-noise BLDC motor and intelligent water management systems,
It can detect clothing differences and select the washing time accordingly so as to reduce the washing time which helps with electricity, and water usage.
You can add garments during a wash cycle, the machine will suspend the wash and unlock the front door automatically to allow you to add more clothes.

Also included is a start delay function, the wash start-up may be delayed to allow the machine to switch on during periods in the day when electricity is less expensive. Delay start time can be increased by increments of 1 hour.

A 15-Minute Quick Wash offers a very short washing time for lightly soiled clothes and saves energy, water, and time.
There is also a Child Lock feature that prevents children from accidentally pressing buttons and altering the wash cycle.
Key Features
Inverter Motor 
B Energy Rate
10kg Capacity 1200 spin speed

Number of Programs 16

Smart
Cotton
Mix
Woolen
Silk
Underwear
Down Wear
Bedding
Drum Clean
Spin
Rinse&Spin
Stain
Steam
20℃
Quick 15'
ECO 40-60
Spec.

Energy efficiency rating B
Single Water Inlet
170 deg Door open angle
Door lock 
Max water temp /°C 90°C
Length of inlet pipe/m 1.5m
Length of drain pipe 0.8m
Porthole size 300
Product Color White
Capacity (kg) 10kg
Maximum Spin Speed (rpm) 1200

Voltage/Frequency* 220V-240V/50Hz

Dimension (w*h*d in mm)* 600*590*840

Packing dimension/ mm 650*650*870

Net weight/kg 66kg

Gross weight /kg 67kg
Useful Information
Model Number: P351210KW 
EAN: 5391503417750