Register Your Warranty Here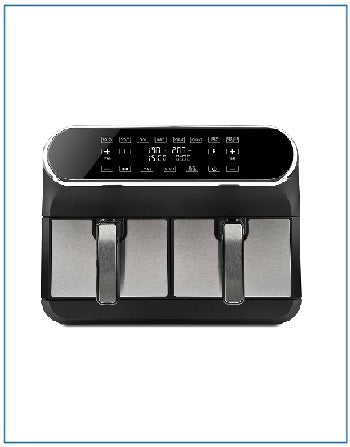 Product Overview
For a healthier take on fried food, look no further than this fantastic fryer from Powerpoint. It has a generous 8-litre capacity, so there's lots of room to make fluffy chips for the whole family. It comes with a timer too, meaning you can get on with the rest of your day without constantly checking if your food is done. You won't have to rush to turn it off either, as it'll automatically do it for you once the time is up. You can even add fish fingers and BBQ chicken wings from frozen, as heat technology uses higher temperatures to cook food 30% faster. And because the components are dishwasher safe, it's really easy to clean as well.
The Powerpoint Airfryer gives you food faster, and healthier and saves lots on electricity bills.
SYNC COOK - Set each basket to cook different foods and then Press the SYNC option to finish foods at the same time.
SHAKE - A tone will sound during cooking to remind you to SHAKE the basket.
DUAL COOK - Dual cook option to cook both baskets together in the same setting.
DRAWER LOCK - Safety lock to prevent unwanted drawer removal. 
Features
Two Large 4.0 Litre baskets
8 Pre-Set Programmes
360° Hot Air Circulation
60 Minute Timer
80-200

°C Temperature settings 1700Watt

Dishwasher Friendly Parts
Sensor Touch Control
Helpful Links
Model P8382SS
EAN 5391503417507